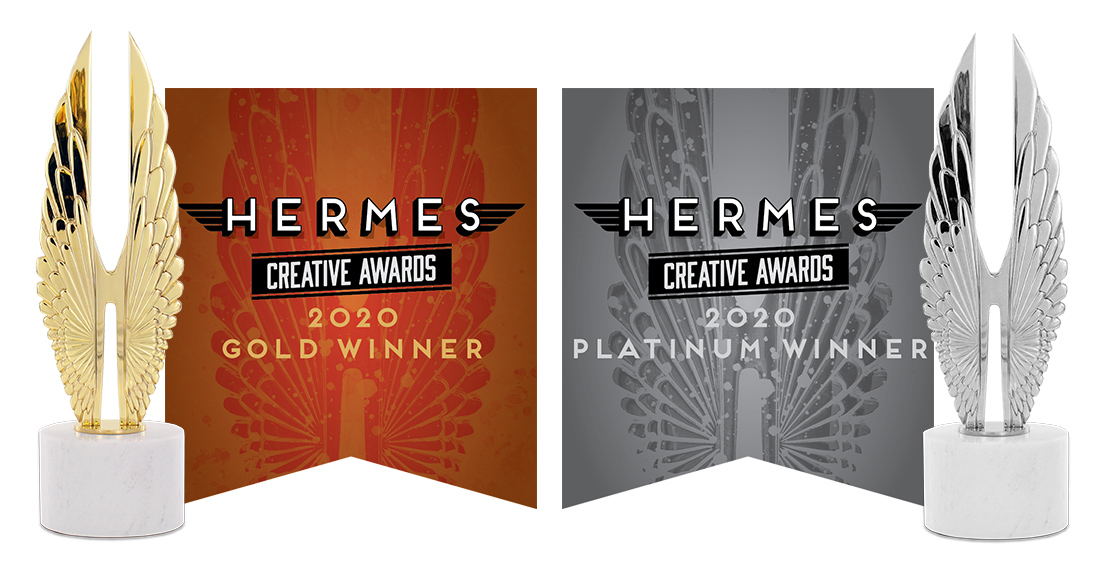 Living Online are delighted to have won Platinum and Gold Awards for our work on the Benchmark and InteliCare websites at the 2020 Hermes Creative Awards.
The Hermes Creative Awards honour those who bring ideas to life through both digital and traditional mediums, with judges evaluating the creative industry's best websites, videos, publications, branding collateral, marketing, advertising, and communication projects on a global scale.
This year there were over 6,000 international entries, with Living Online winning the prestigious awards alongside the likes of the National Philanthropic Trust, Worldwide Breast Cancer,  and the National University of Singapore.
Our award-winning projects focused on the Benchmark Specialist Property Managers' website with a refresh of the already vibrant brand, which is full of fun and personality – resulting in a modernised website which is fully-responsive, visually stunning, and on-brand. Meanwhile, the now award-winning custom InteliCare website has a strong focus on providing exceptional user experience, with a vibrant, interactive appeal that enables users to begin their journey to independent living.
We are truly delighted to be recognised by some of the biggest players in the digital marketing industry worldwide. It drives home the hard work we have put in for our clients, and the real-world results we have worked with them to achieve. The best thing is, these awards are not just for large companies with big marketing budgets – but also for local or national businesses with a limited marketing budget, who have been able to cut through the crowd in a highly competitive arena.
Being able to make a real difference to these businesses is what drives us, and being honoured by our peers for our results is the icing on the cake. See our epic list of digital marketing award nominations, or view our case studies to see the great work we have achieved for numerous businesses.
If you'd like to discuss how we can help you meet your business objectives and generate an award-winning website for your company, reach out to our team of digital marketing experts for a chat today.