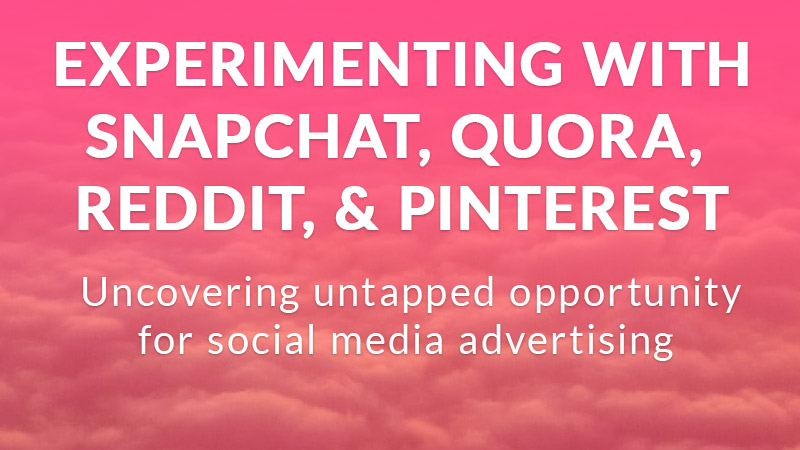 Picture this. You're stuck in a traffic jam on the freeway during peak hour, wondering if there was perhaps a better way of getting into work this morning.
What is normally an easy, quick ride into work has now turned into a laborious game of edging a metre per minute, with your freeway exit seeming like an eternity away.
Sure, freeways are a great way to get to work. However, when everyone has the same idea, the model breaks and we begin asking ourselves, "Is there a better way?"
This is not unlike social media marketing.
Leading platforms like Facebook, Instagram, Twitter, and LinkedIn have been dominating the business landscape ever since social media became a necessity for online lead generation and brand awareness.
The trouble is, they've now become congested freeways of heavy traffic and inherent problems.
They are heavily saturated with advertising, making it increasingly difficult to stand out from your competitors. It's also expensive to advertise on these popular channels and it can be tough to achieve a high return on investment (ROI) and low cost per acquisition (CPA) when trying to meet your business objectives.
Just like the morning driver trying to think of ways to reduce their daily commute, marketers are increasingly looking at alternative ways of reaching their customers efficiently.
There is an extensive range of social media platforms and marketing technology (MarTech) available to marketers today. The number of MarTech platforms has exploded from 150 to 7,040 in just the past eight years. New channels such as TikTok and Twitch have seemingly come from nowhere overnight to dominate the social media landscape.
With all of these options, how do you know which ones to invest your time into, and which to incorporate into your marketing mix to successfully meet your business goals?
We have ventured beyond the mainstream to find untapped opportunity. We did the hard work for you, running experimental ads on a selection of alternative and emerging social media platforms with strict limitations around time and budget.
You might be surprised at what we found.
The Problem
Avoiding new social media platforms or placing them in the too-hard pile can have more profound effects on your business than just a reduced social presence:
Companies can, and are, hitting roadblocks with their existing advertising results. They've saturated their target market across the main social platforms and aren't seeing any noticeable improvements in their CPAs or ROI.
There is considerable lost opportunity by not exploring other, potentially higher performing, platforms that could improve overall customer numbers and revenue.
Businesses are leaving more opportunity on the table by not capitalising on new, effective marketing platforms BEFORE competitors get in first.
Out of the thousands of possible MarTech options available, it takes time and resources to understand what platforms would be the most relevant for testing.
Why Does This Matter?
It matters because there may be new and better ways to attract highly profitable clients online, and companies like yours are missing out!
For far too long, some digital marketing agencies have dropped the ball when it comes to experimenting and testing new channels. They have failed to go beyond their comfort zones to uncover the best possible marketing mix and remarkable results for clients.
The Solution
The solution, if you haven't already guessed, is to make experimenting with new and existing social media platforms a key part of your marketing strategy. This ensures you leave no stone unturned, and don't miss out on any competitive advantage or revenue.
In this article, we break down the exact process we've developed to quickly determine what are the most applicable "alternative" social media platforms to test, and how to test them. We've also included our results, which you can take on board when it comes to critiquing your own marketing mix.
With our analysis, we went beyond the normal platforms businesses usually consider when thinking about social media. These include messaging apps, dating apps, photography and streaming apps, forums, and other social apps or sites where people may spend a lot of time engaging with their online community.
The Process
When carrying out any marketing experiment it's important to define a process to prevent wasted time, resources, and money.
We took the below five-step approach to help quickly determine which platforms we can shelve for now, and which warrant more investigation.
Step 1: Decide on experiment protocols
Create test parameters for each channel, including how much money to allocate. Focus on the business department you will test for each channel, what ad creative and message you'll use, how long the test will run for, and what audience you will target.
Consider allowing for a period of optimisation (e.g. 2 days) where the campaigns are left untouched before making any changes based on performance, then repeat the process.
Statistically significant data is key to any experiment. In this instance, we wanted short, sharp experiments to quickly qualify the channels and determine if further investigation is needed.
Step 2: Identify platforms to test
Identify which new and alternative social media platforms are available and that you are not already using. Record their details – key demographics, audience size in your advertising region, format (video, imagery), and so on.
Have a look at each platform's advertising options:
Do they offer advertising and is it available in your region?
What are the costs involved to set up an account? Consider set-up fees, ongoing fees, and minimum ad spend.
Is it possible to run the account and marketing yourself, or do you need to engage an agency or company to do this on your behalf? Platforms like WeChat generally require you to engage a specialist agency who has an advertiser account before you can begin advertising.
What are the rough costs you would need to spend and manage? Look for insights into Cost Per Clicks (CPCs), Cost Per Thousand/Mille (CPMs), Cost Per View, and similar.
How long will it take you to set up an account and get your ads running?
Based on the answers to the above, you can then make a decision what platforms are eligible to test.
Step 3: Run the tests
Set up the accounts, campaigns and ads, staying true to your determined testing period and budgets. Record the results and include any optimisation needed, as well as the impact of any changes.
Step 4: Analyse results and make decisions
Analyse the data. Compare each platform's performance to the others in your experiment, and to your existing advertising channels. Based on this, make the decision whether to test these further, add these to your marketing stack, or scrap them for now.

Step 5: Repeat regularly
Since this process is a continual cycle, you need to regularly repeat it with new and emerging platforms as they are discovered. By adopting a regular process of testing and experimentation, you will position yourself at the forefront of the industry, giving you an edge over your competitors.
Our Experiment
Deciding on experiment protocols
We worked with limited time and resources as we understood that clients would often be in a similar situation. We set a deadline of just one week turnaround to finish the experiment, from researching the channels through to analysing the final results.
We then set an overall advertising budget of $800. This was split among the top four alternative social media platforms we would identify, giving each campaign a $200 ad spend during the experimentation period.
We chose the social media channels to explore based on the following criteria:
A quick and easy account set up process
A fast campaign and ad review time
The ability to advertise on a small budget
An audience based either in Perth, Western Australia, or Australia-wide, depending on the campaign.
Identifying platforms to test
When it came to the candidates, we identified the most popular social media and alternative social media platforms.
We then quickly eliminated the ones that:
didn't offer any ads in Australia
weren't self-service
had a minimum ad spend outside our budget.
This excluded WhatsApp, Bumble, Houseparty, Byte, Tumblr, Discord, QQ, Qzone, BIGO Live, and Kik.
We disqualified platforms with high potential but would need more time or money outside of our experiment's protocols. In some cases, the audiences were too niche and were unlikely to deliver an appropriate amount of reach.
These included TikTok, WeChat, Weibo, Twitch, Spotify, SoundCloud, Tinder, and Steemit. While promising, the biggest hurdle we faced with most of these was that they often relied on account managers to review applications to advertise. This meant we weren't able to get the signup process completed within the one-week turnaround.
That left four social media platforms that met our brief – Quora, Reddit, Pinterest, and Snapchat. We then selected the most appropriate of our existing clients to test on each platform. Just one of many perks being a Living Online client – free ad spend while testing your brand on a new channel!
Let the hunger games begin!
Testing Quora Marketing
Monthly Active Users: 300 million
Setup Time: 25min
Ad Review Time: 1.5h
Quora is a "question and answer" forum with more than 300 million monthly unique visitors. Thanks to the engaged visitors and potential SEO benefits from the traffic it receives from search engines, companies are increasingly using Quora as a marketing tool. Its advertising platform, Quora For Business, uses advanced targeting options to get your message in front of people actively looking for the answer to problems your company can solve.
Advertising types: Image Ads, Text Ads, and Promoted Answer Ads.
Advertising targeting: Contextual – by keyword, question, or topic; Audience – lookalike, website, and contact lists;  Behavioural – interests, keyword or question history; Broad – no targeting just maximum impressions.
The campaign: Generating website form submissions for a technology company.
Our findings:
Account, campaign, and ad set up was easy and intuitive, taking 25 minutes from start to finish including installing the Quora Pixel.
The ads only took 1.5 hours for Quora to review before they started delivering to our target audience.
We started with quite narrow targeting as the product we were promoting is quite niche itself. After the first 24 hours generated negligible results, we opened it up geographically – from Perth to Australia – and expanded the targeting to 'Broad', which worked a lot better while still allowing us to target eligible prospects.
The CPC started at $0.25, increasing to $0.50 after the first 24 hours. By the end of the campaign, the average CPC was at $0.33.
Quora spent exactly $200, which is very satisfying for marketers used to the pain of unpredictable daily ad spends across Google and Facebook.
We generated 2 conversions (form submissions) at a CPA of $100. In comparison, the same campaign in Google Ads was sitting at a CPA of $148.
Biggest Pros:
Didn't exceed daily budget
Advanced targeting capabilities
Attractive CPAs for this particular client
Very easy to set up
Biggest Cons:
Niche audiences don't perform well
Testing Reddit Marketing
Monthly Active Users: 330 million
Setup Time: 25min
Ad Review Time: 24h
Reddit is a collection of forums, broken down into specific communities, or 'subreddits'. 'Upvotes' and 'downvotes' are the key metric as users express their feelings towards a post, which then goes towards earning Karma points. It is hugely popular, and was the 5th most visited website in the United States at the start of 2020. With such significant increases in monthly average users, currently sitting at 330 million, combined with low advertising competition, it's a platform that companies should definitely be aware of when it comes to organic and paid social. Reddit Ads allow you to reach large communities actively invested in the industry, product type, or service that you offer.
Advertising types: Promoted Posts – link and text ads;  Display Ads.
Advertising targeting: Community (subreddits), and Interests.
The campaign: Generating newsletters signups for a financial company.
Our findings:
The account, campaign, and ad set up was easy, completed in less than half an hour.
It took a full 24 hours, however, to get the ads reviewed before they started running. Reddit requires personal identification to be sent through as part of a manual verification process, which led heavily to the delay, along with the time difference as the support team works in the US.
The tracking parameters we used for the campaign URLs fell off during the experiment. Although this was fixed, it meant some data wasn't pulled in correctly to Google Analytics.
The Reddit Ads dashboard is in US Dollars. This, along with the fact that Reddit Ads can spend up to 20% more of the designated ad spend in any one day, meant that we spent $AU360, well above the $200 ad spend limit.
The USD in the dashboard also made it difficult to quickly analyse and compare performance metrics such as CPCs and CPAs.
We generated 2 conversions (newsletter signups) at a CPA of $AU180. While this was a more competitive CPA than other advertising platforms for this client across the same period, it was considerably higher than their historical advertising CPAs.
Biggest Pros:
Quick and easy to set up
Reasonable click volume
Lowish CPCs
Biggest Cons:
Slow 24-hour approval process and verification issues
Difference in Reddit and Google Analytics statistics
High CPA compared to historical CPAs.
Testing Pinterest Marketing
Monthly Active Users: 335 million
Setup Time: 1h
Ad Review Time: 6h
Pinterest is a "visual discovery engine" used by a considerable number of people, mostly women, around the world to plan life moments. It contains everything from recipes, home ideas, fashion, business advice, life tips, and more. In the past year alone, it saw a massive 26% increase in its active user base, jumping to 335 million.
While Pinterest Ads have been around for a few years now, they are constantly expanding their advertising options. This allows companies to generate sales and leads from customers who are looking for specific ideas.
Advertising types: Promoted Pins – home page and search; Product Pins – via feed or manual;  Promoted Carousel; Promoted Video Pins; Promoted App Pins; Buyable pins; Story Pins.
Advertising targeting: Interest (e.g. recipes, home décor), Keywords (with match type options), and Audience (website lists and existing databases).
The campaign: Sales for an ecommerce store targeted at women.
Our findings:

Pinterest took considerably longer to set up than our other platforms, with a less intuitive process and more complicated ecommerce conversion tracking set-up.
We had to configure DataLayer variables to push through product data to the Pinterest Tag. Companies without a web developer on hand would likely struggle with this step.
It can take up to 24 hours for data to pull through into Pinterest Analytics, which makes fast optimisation difficult.
Pinterest Ads did offer one great benefit – shared promoted pins lost their 'Promoted' label, and became 'earned media'.
Pinterest spent exactly $200, an extremely satisfying metric.
We generated 2 newsletter signups but zero ecommerce purchases during this time. While newsletter signups are valuable to this client in terms of lifetime customer value, we could not immediately justify the CPA.
Biggest Pros:
High CTR
Solid audience size and click volumes
Good targeting options
Shared promoted pins lose the promoted label and become earned media
Biggest Cons:
Reporting dashboard slow to update, and unintuitive
Ecommerce event tracking is difficult
Failed to generate ecommerce sales
Testing Snapchat Marketing
Monthly Active Users: 360 million
Setup Time: 25min
Ad Review Time: 1h
Snapchat is a camera app that has expanded to become one of the most commonly used visual and messaging apps across the world, particularly among young people. A staggering 90% of people aged 13-24 in the United States use Snapchat. An average of 229 million people, out of 360 million monthly active users, use Snapchat daily. You can use a range of advertising tools to reach your target audience through Snapchat Ads For Business, including filters, lenses, and commercials.
Advertising types: Single Image or Video; Filters; Lenses – Augmented Reality (AR); Story Ads; Product Ads; 6-second commercials.
Advertising targeting: Placements – categories; Audience – contact lists;  Locations -granular geo-location targeting; Demographics.
The campaign: Advertising a local restaurant that offers dine-in, takeaway, and delivery.
Our findings:
Set up was easy enough, and the review turnaround time was less than an hour.
It was hard, however, to set up conversion tracking, and the dashboard was not intuitive when it came to adding new ads or ad sets.
There are a range of great, and free, templates for images and videos in the Snapchat library. When we tried using these for the test, however, it was painfully slow and ended up crashing, losing the campaign we had created.
We had quite tight geographic targeting, but after failing to spend enough in the first 24 hours, we expanded this out from 5km to 10km from the business and changed the placements to 'automatic'.
Facebook is a key driver of conversions for the business we tested. Yet, surprisingly, the engagement of website visitors, in terms of sessions per visit, bounce rate, and time on site, who arrived on site from Snapchat was greater than those coming from Facebook.
We generated 410 'swipe-ups' at a Cost Per Swipe Up of $0.40. Due to issues with conversion tracking, we were unable to determine whether we generated any direct orders from this campaign. Google Analytics reporting, however, recorded 8 'click to call' conversions from Snapchat Ads, which were likely to have been phone food orders.
Biggest Pros:
Great audience and matured ad offering
Campaigns easy to set up
Free templates help design
Biggest Cons:
Elements of conversion tracking difficult
Dashboard difficult to navigate, with limited reporting.
Partnering with a digital marketing agency like Living Online will ensure you're at the forefront of the latest trends. We have vast experience with Snapchat Ads and can tailor your marketing solution to ensure you get the best impact with your Snapchat marketing strategy.
The Final Results
After the week was up, we had successfully researched the top, new, and emerging social media platforms, using our key criteria to find the most relevant ones for our experiment. We made some interesting observations from the data, with the final results for each platform comparison summarised below.
At the end of this quick shotgun test, we had developed our knowledge of these four platforms. We built our understanding of exactly what their advertising offering looked like, and how it worked. We can now take our learnings and the experiment results to better understand how each platform could help our clients depending on their industry, objectives, target audience, and offering.
All four of the social media platforms – Quora, Reddit, Pinterest, and Snapchat – showed potential and warrant further in-depth testing to allow us to continually provide our clients with maximum conversions for the highest return on investment.
Benefits
As mentioned, there are many benefits to taking a high-speed approach to identifying and testing social media and alternative social media platforms that your company currently isn't using.
These include:
identifying new opportunities to gain an advantage in low-competition platforms
reaching new audiences outside those who primarily stay on the more popular social channels
increasing the number of leads generated, for lower CPAs
staying at the leading edge of testing
gaining market share of a platform before it becomes too saturated.
Summary
Constantly testing and exploring new platforms to reach potential customers, generate more leads, and lower your overall CPA is critical. Competition in every industry is high and it is becoming more difficult to break through the noise in saturated social media platforms.
By undertaking fast, agile approaches like this shotgun process, your company can enjoy the benefits, with minimal use of time, money, and resources. Alternatively, you can partner with a digital marketing agency like Living Online, which is always at the forefront of the latest trends and technology to ensure companies like yours become or remain leaders in their field.
If you can't confidently say that you're using the right online marketing mix to maximise your business revenue, then spare a few minutes to talk to our expert team and learn how our strengths as an agency can lend to your strengths as a company. Contact us today!