The only constant in the world of digital marketing is change.
Competition is heating up as billions of dollars in marketing budgets accelerate the shift to online channels, generating increased demand for limited inventory. New never before seen job roles like "growth hacker" are being created to help manage increasingly large investments. Powerful tools have emerged to help "make life easier", each with a steep learning curve before they start delivering dividends.
As these new technologies are born, old techniques will die.
2016 is a year of remarkable opportunity for those who choose to embrace this change. It will also mark the end of the road for those who refuse to adapt.
Read on to find out what's hot in digital marketing right now so you can position yourself for success.
1. Digital Advertising
Companies are spending more and more money on ads.
Consumers attention spans are shrinking – it's possible that you've even been distracted by Facebook, your email inbox, your phone, or some other alluring eye candy in the 26 seconds it would have taken you to get to this point in the article – so companies are spending more money on interruptive and alluring advertising in order to compete for their attention. All industry experts agree that even more cash will get pumped into the ad market as time goes on. As a matter of fact, PWC's Matthew Hobbs believes that internet advertising will be the single biggest segment of the advertising industry by 2019.
The increase in ad demand has been driving up ad prices. In our last post, we went into detail about how Google has recently reduced its number of available ad spots. Google's sudden move has caused the price of ads to surge – both a benefit to Googles bank account and a new challenge for SEM optimisation.
(source: wordstream.com)
A look at Mark Irvine's CPC map reveals that the United States is still the leader when it comes to high CPC costs, and for now, Australia is just a couple of spots below, averaging a 5% lower CPC. Considering that average wages and prices in Australia are consistently higher than those found in the US, it's only a matter of time before Australia overtakes the US in CPC rates.
Ad algorithms know where you've been and what you're looking for.
New marketing automation techniques allow advertisers to access your browsing history by reading a 3rd party cookie in your browser. As a result, it is now possible to deliver just the right ad at just the right time. Have you been searching for Toyota on Google lately? Modern advertising algorithms can understand what you've been up to and serve up ads that will show you how you can get a good deal on a car loan.
Real-time Bidding
Real-time bidding, or RTB, is the digital evolution of buying and selling advertising space on websites to the highest bidder. Programmatic real time bidding functions — like AdWords — efficiently by connecting publishers (selling ad space) and marketers (buying ad space) through a demand-side platform (DSP). The platform feeds on user input data that sets display parameters so the business displays ads only in locations chosen, and only to audiences that meet specific criteria. RTB has been around prior to the millennium and started being adopted by publishers more vigorously in 2005. Publishers nominated their ad space to be retailed through the Ad Exchange. This is essentially an advertising store where marketers want to buy ad space for their business or their clients – in an open auction!

(source: votarymedia.com)
Programmatic Advertising, Buying, Marketing… and the rest
Taking one step further in the algorithmic classroom, programmatic is considered as "digital marketing's saviour" by some. Programmatic is a technology permitting advertisers to automatically target their desired audience using metrics obtained using complex algorithms. Programmatic can be referred to using the following terms:
Programmatic;
Direct,
Guaranteed,
Premium, and
Reserved
Not to mention the range of 'branded' names applied to Programmatic advertising as they try to claim some ownership over the channel. Ignore these terms and stick with the standard industry terms above.

(source: stateofdigital.com)
This programming revolution has essentially turned Mad Men into an algorithmic program. Unlike real time bidding (RTB) which only allows advertisers to bid, buy and sell display ads in real time, programmatic takes this one step further and allows publishers to restrict the bidding auction for pre-qualified players only, and allows marketers to reserve ad space, stocked in the 'ad inventory', to promote products and services to a pre-defined target audience; across a multitude of publishers. So basically, programmatic advertising automatically targets consumers based on browsing data (cookies), using complex algorithms, when permitted by the publisher, triggering a bidding war for display advertisements.
It is worryingly common for programmatic RTB and programmatic direct to be confused. So to help demystify the nuances of each technology:
RTB: real time bidding is a sub-set of programmatic advertising whereby marketers can manually select display locations by domain to pitch ad sets to a target audience.
Programmatic includes RTB technology as a part of its process in serving advertising as per predefined campaign parametres, but does so on a large scale while reserving ad space in an automated process, which RTB doesn't allow.
Although RTB is still a powerful tool to be utilised, programmatic allows marketers to take a more sophisticated approach through automation by digging into consumer data on a more granular level when running ad campaigns.
Gaining a fuller understanding of both advertising technologies will require a good deal of research. Marketers are not expected to fully understand the complexities of each technology on the whip around. If you're slow on the uptake and adoption of this concept, both on the surface and in practice, start digging faster!
2. Mobilegeddon
Mobile is king. Long live mobile!
Every credible source for marketing information agrees that the mobile web will continue to grow. Cisco thinks that that global mobile traffic will increase eightfold between 2015 and 2020, reaching 20.6 exabytes. That is why a mobile-first mentality is at the core of new developments across the digital world. Only last month, Google made a strong move in that direction by changing to the way Adwords are displayed on their search results by making the desktop experience more like the mobile experience.
Mobile advertising, site development and the app-world
Mobile marketing will ever increase as consumers spend exceeding amounts of time on mobile for digital tasks (and some offline tasks). Marketers responded to Mobilegeddon with responsive design to make their websites more mobile friendly; leading to the next logical question – optimized website, or mobile app? With the development of apps becoming increasingly common for functional purposes and life hacks (games, tools, business, media…), the demand for apps delivering information and functionality over websites will increase. In fact, in 2013 "80% of mobile device time [was] spent on apps". Fast forward to 2016, and this will bring with it a string of opportunities and challenges for digital marketers that will draw on an adaptive approach to advertising, promotion, optimisation and UX (and don't forget sales).

(source: smartinsights.com)
Stephen Gill of Tiller is quoted on Mashable as saying "Mobile native ads draw double the CTR of display ads, and in many cases, bypass ad blockers to reach the right audience in context. Seventy-three percent of U.S. media buyers are now investing in native. By 2018, spending on native will reach $21 billion."
3. Digital vs Traditional Marketing, not for much longer…
At the moment, digital and traditional marketing are being treated like North and South Korea in organisations across the globe, with clearly demarcated boundaries and dismissive animosity. In the post-digital world, we're less likely to see 'digital' as a standalone activity. Both traditional and digital marketing will be fully integrated, falling under the umbrella of 'marketing'. In order to promote this new culture, Amanda Rendle – the global head of marketing at HSBC– has gone as far as banning the use of the term digital in her team.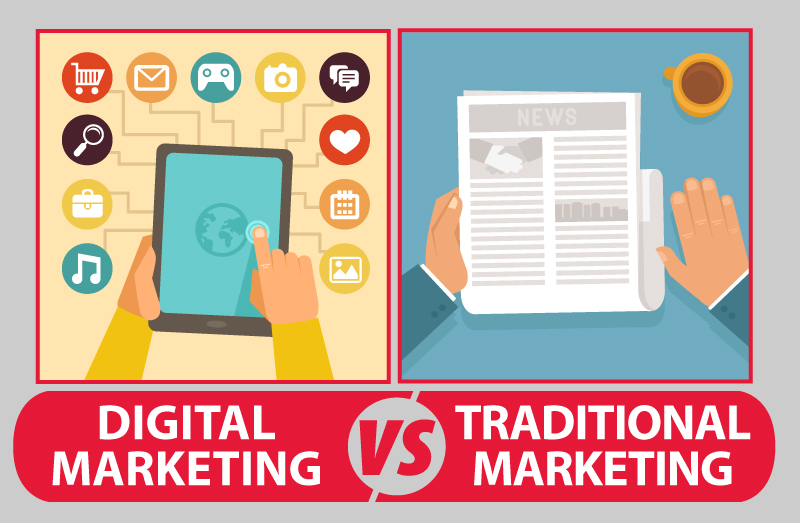 (source: enablecode.vn)
Corporates are starting to adapt to changing market conditions. Proof of that is the more frequent appointment of a Chief Marketing Officer who is in charge of bringing together the two marketing functions.
A key reason for this divide is that many professional marketers originally gained their knowledge through university. Given so few universities cover digital marketing beyond a handful of seminars or lectures, it becomes a sort of taboo subject until graduates look to gain digital specialisations based on interests and career goals. Thankfully this shortfall will be negated from the top-down as corporates rectify the problem due to necessity.
4. Content Marketing
Content marketing is here to stay.
Content marketing was the big trend in 2015. Well it's not going anywhere. According to a poll conducted by Smartinsight, content marketing will be even more important in the coming years. If your content isn't valuable, it will sink to the bottom of the bin.

(source: smartinsight)
Videos, videos, videos.
Search engines like it when visitors land on a page – and stay there. They award higher rankings to pages that captivate interest and devalue those that disappoint. Adding an interesting video to your site is still one of the best ways to keep a visitor's eyes glued to your page. Cisco predicts that by 2019, 80 percent of all internet traffic will consist of video streaming.
Digital Influencers are becoming more important.
According to Deloitte, more and more consumers are arming themselves with product knowledge that they've discovered on the internet. As a result, when they enter a store they often already know what they are going to buy.
No wonder why popular bloggers, vloggers and trusted product reviewers are increasingly sought after by brands that want to promote their products. This report from Group High shows how a growing number of these content creators admit to offering their service in exchange for money.
5. Data-Driven Marketing
Analytics and Big Data.
When so many marketing decisions depend on cutting-edge technologies, big data analysis comes to the rescue. Experts predict that analytics will grow further as a sector in 2016. Interestingly at the same time cmo.com.au points out how an increasing number of companies are appointing CMOs that have an analytical background and are able to take action on ever growing volumes of data.

(source: steffondavis.com)
Big Data (including market and customer insight and predictive analytics)
Much like Google Analytics spits out website performance data in a user-friendly interface, the term and function of "Big Data" allows us to analyse, infer and predict or 'spit' out market shaping conclusions in a calculated, quantifiable way. Big data embodies the holistic principles of what data-based information can do for a marketer, thanks to the web having absorbed billions of interactions, across a multitude of platforms, for many years. Historically, subjective or anecdotal inferences on consumer behaviour have driven market direction and shift. In the last 2-5 years, big data has put the 'persuasive power' back in the hands of marketers by leveraging cold hard facts for the betterment, growth or evolution of a business, in a highly responsive, and reactive manner.
6. Social Media
More ads between your friend's posts
Twenty percent of the world's population logs on to Facebook at least once a month. But marketing experts are divided when it comes to its future. WARC, an online service for advertising best practice, recently stated that Facebook's advertising business will continue to grow thanks to its regulated environment. On the wider internet, ad blockers are surging due to the obtrusive way ads are often being delivered. But social platforms can guarantee a balance between amount of ads shown and user experience. As a result, advertisers expect a better return on investment.
(source: Living Online)
A Forrester 2016 report painted a less rosy picture for Zuckerberg's product. While ad spend is predicted to increase, the overall lack of 'organic post value' on Facebook will lead companies to prioritise other platforms, such as Instagram (incidentally owned by Facebook), Vine and Twitter.
Natural language processing
NLP is a field of computer science, artificial intelligence, and computational linguistics concerned with the interactions between computers and human (natural) languages. As such, NLP is related to the area of human-to-computer interaction.
NLP in social media and beyond, will, and is, helping marketers learn more about the customer through millions of social interactions across Web 2.0 and various media. Although not a cost effective tactic for agencies at present, data scientists and analysts are already scraping through data to gain intrusive insight into the minds of purchasers.
7. The rise of ultra-personalised marketing
Teradata's principal consultant Umporn Tantipech believes that hyper-personalised marketing is the next big thing. The 20th century was about crowds. The 21st century has arrived, and it's all about you (I wonder what the 22nd century will hold). The more you can make your targeted audience feel like you are listening to their individual wants and needs, the more appealing your brand will seem.
8. Connectivity and Automation
Internet of Things (IoT)
Tied in with big data, the application of marketing to the 'internet of things' (IoT) is focused heavily on data gathering and real-time analysis. However, due to current implementation deficits for marketers in practical functionality, we are unlikely to be able to leverage its raw power effectively for some time. Technology companies dealing with sophisticated and integrated networks will be the first to truly benefit, though the capabilities of IoT will soon drip feed into the lives of everyday marketers. How? We're not yet sure, but Marketo suggests that "51% of the world's top global marketers expect IoT will revolutionize the marketing landscape by 2020". While some think that we are currently in a state of IoT being fully integrated with marketing, the truth is that while machine-to-machine or device-to-device connectivity is already here, the future implications of IoT on marketing really depend on how the maturation of its current application into a commercial landscape develops; especially as it moves away from its current, more industrial environment.
Looking further into the future, it is highly likely that we will see opportunities where applications and systems will talk to one another without human intervention, like: "Google search, Mobile SEO, GDN, Google Now, Google Local, App stores, iTunes, mobile, vehicle autonomy, Google Play" (+ buying and selling).
Marketing Automation
Automation is the progressive and 'now happening' next step in digital marketing. Again, stemmed from previously industrial applicability, marketing automation has been embedded in the core aspects of all modern businesses to-date. Automating tasks supported by data insight saves time, increases effectiveness and broadly allows 'more to be done better'. By interlinking tools like CRM, email, content, social and more, automation can be valuable for businesses in both the B2B and B2C realms. Marketing automation has current application for businesses when there is sufficient scale to the organisation and volumes of traffic to justify the investment. In the future, it will likely marry up with IoT and big data, especially given that automation relies heavily on data. With more than 49% of companies already using marketing automation technology, the number of organisations making some level of automation a part of their strategy will likely rise to become a staple in every marketer's arsenal.
9. New search engines – dominating in numbers, not search volume
Search Engines
Google's reign over the digital realm will continue for the foreseeable future. What will change is where people go for niche searches, whereby the engine provides something that Google doesn't – perhaps a better service or differentiating feature to that of Google, Bing, Yandex and so on. DuckDuckGo is a good example of an independent search engine gaining traction (although now partnered with Bing and others). Launched in 2008, as the modern, simplified, distant cousin – in appearance only – of Google; DuckDuckGo has an Alexa global rank of 764 and draws the interest of large markets such as the US, Germany and the UK. Furthermore – and interestingly – the key search queries for this site are variations of DuckDuckGo, which suggests that their brand is growing. Again, although Google is dominating the 'search-space', new search engines will continue to pop up, drawing in audiences seeking different features, functions or user experience.
For your notebook, DuckDuckGo's key differentiator is "we do not track you" – which seriously goes against the grain.
Vertical Search Engines and Aggregators
Much like Google, DuckDuckGo, Bing, Yahoo and the rest; independent and 3rd party supported vertical search engines (VSE) and aggregators are fast becoming the preferred search intermediaries for information. Search Engine Watch pitches a rather vexatious opinion that Google's reoccurring modifications will disrupt users loyalty, turning searchers to source other vessels of information. It's a little rash to suggest that Google's behaviour will directly result in VSE and aggregator's overthrowing the search kingdoms reign. Though as brand name and performance of VSE's and aggregators grow, these platforms will start to absorb portions of Google's market share.
For example: If you are interested in purchasing a new car, would you search "new family car for sale" in Google, or would you jump on to www.carsales.com.au? Nationally, in Australia, consumers know that there are only a small handful of directories, aggregators or vertical search engines that can provide specified, relevant search results based on highly customised search queries. Google simply can't compete with this type of unique user enquiry and platform functionality.
The same concept applies to house hunting (www.realestate.com.au), image origin search (www.tineye.com), and www.mixturtle.com to browse thousands of music files.
As VSE's and aggregators continue to build their brands and subscriber following, they will rely less heavily on search engine organic rankings and paid advertising, in order to grow their audience. It's in this instance that traditional monopolistic search engines will start strategizing competitive rebuttals. After all, the news.google.com service already exists, so what could be next? Cars.Google.com, Music.Google.com, Property.Google.com…???
10. Technology/Science
Cognitive technology
Deloitte expects companies to adopt a number of cognitive technologies this year, including machine learning, natural language processing and speech recognition, most of which aim to increase the value of their products or service – and more.
Deloitte predicts that by the end of 2016, more than 80 of the world's 100 largest enterprise software companies (by revenue) will have integrated cognitive technologies into their products, a 25 per cent increase on 2015. By 2020, Deloitte expects about 95 per cent of the top 100 will have done so. For marketers, this will open up new advertising channels such as marketing through learning and experience.
Wearables (e.g. Apple Watch, activity trackers, augmented reality)
The "wearable tech industry will treble inside the next five years – with a whopping 245 million devices expected to ship in 2019". With integrated, user-interfaced, 'connected' products, comes tasty opportunities for marketers. As Erick Schonfeld, executive producer of DEMO states, "if it's Fitbits and Nike Fuel bands, wearable tech is already hitting the mainstream today". When it comes to items like Google Glass and more sophisticated virtual reality (VR) products, the sooner these products are commercialised with the technology applied elsewhere, the sooner we will know the impact on marketers. Given the surfacing of various product forecasts, it's fair to assume that inbuilt technologies such as heads up displays in automotive and media viewing via VR will become common place – the sky's the limit.
(source: 30npire.com)
That's a wrap
Being on top of the latest trends is a good way to gain the competitive edge; but being ahead of the trend is a great way to become a market leader.
Steve Jobs didn't copy Bill Gates; he revolutionised the idea.
Facebook didn't mimic MSN messenger; it massively usurped it.
Google didn't become the search powerhouse it is today by sticking to its original launch of BackRub in 1996; 13 iterations and 17 years later, the search engine stayed ahead of the trend – until now, when it 'sets' the trend.